Piano Designer App for iOS and Android
By Roland U.S. and Roland UK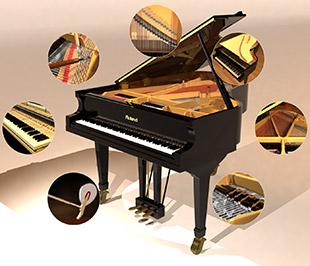 Now teachers can create custom pianos to suit any situation and show students how subtle refinements can make a big difference.
You teach many kinds of literature on your piano, including music from different periods and multiple genres. Wouldn't it be nice if your piano could instantly adapt to the piece your student is playing with the appropriate tone, tuning, and response? With Roland's free Piano Designer app, now it can!
The Sound of a Piano
The rich and complex sound of an acoustic piano is the result of interactions between its individual physical components and the materials used to create them. The strings, soundboard, iron frame, and wooden cabinet all work together to produce that wonderful grand piano sound. This sound has also evolved over the piano's 300-year history. Over time, different materials and building techniques have introduced many variations in timbre, dynamic response, and even the number of keys.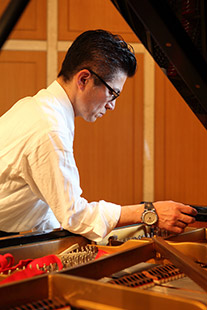 In the hands of a skilled piano technician, the tonal character of an acoustic piano can be adjusted in a number of ways. This is often done to suit a performer's individual taste or style, or to ensure that the instrument sounds its best in a specific venue. These tonal adjustments can be expensive, and they also deteriorate over time, needing readjustment at regular intervals to maintain top performance. On top of that, an acoustic piano is still only a single instrument, capable of delivering just one overall sound character per adjustment.
Thanks to its SuperNATURAL® sound engine, a Roland digital piano provides a much easier—and far more affordable—way to unlock and enjoy this rich tonal versatility. With the free Piano Designer app, owners of Roland LX-15e, HP508, HP506, HP504, DP90Se, DP90e, and FP-80 models can quickly build and refine their own "ultimate" piano sounds by adjusting the same areas that a skilled technician adjusts on an acoustic piano. Piano Designer also makes it possible to change the entire piano sound with one touch, achieving results that would take a technician literally hours to accomplish on an acoustic piano.
Fine-Tune the Tone
Available for iOS and Android devices, the Piano Designer app showcases the power and versatility of Roland's SuperNATURAL technology. Easy to use, the app gives you complete control over the fine details of the piano tone—right down to each of the 88 individual notes—all via the touchscreen on your favorite handheld device.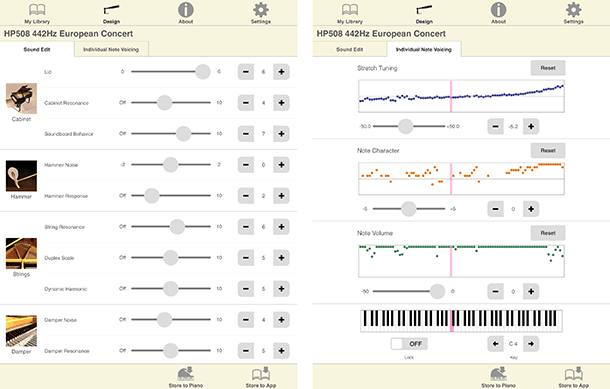 A wide variety of adjustable parameters allow you to instantly change your instrument's tonal character for any application. From subtle nuances like damper noise and sympathetic resonance to more dramatic changes in touch sensitivity and individual note tuning, you can create a custom library of your favorite pianos to suit the student, literature, period, venue, etc.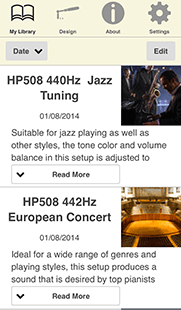 Your Personal Piano Tech
If you don't want to fine-tune the piano tone yourself, the Piano Designer app comes with a variety of presets that have been created by some of the world's finest piano technicians. For example, you can select a 440 Hz American piano for jazz repertoire, or a 443 Hz Viennese piano for classical music. With your on-demand digital piano tech, it's easy to optimize your Roland piano for any number of tunings, music styles, and more. This instant access also provide a great way to illustrate how sound adjustments influence the musical characteristics of the piano, bringing this concept to life for your students.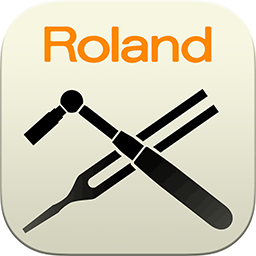 Easy Connection
If you own a Roland piano that supports Piano Designer*, you can connect your iOS or Android device wirelessly using Roland's optional WNA-150 Wireless USB Adapter. iPad users can alternately connect their device via a USB cable using Apple's iPad Camera Connection Kit or Lightning to USB Camera Adapter. (Check your iPad's documentation for details on the correct adapter to use with your particular iPad model.)
Before using Piano Designer, you'll want to make sure your Roland piano model is updated with the most current system program. The latest system program and setup instructions can be found at the support pages at www.rolandus.com/support.
*Models that support Piano Designer: LX-15e, HP508, HP506, HP504, DP90Se, DP90e, FP-80