Hear From Your Peers
Music educators around the world rehearse, perform, record, and burn like never before.
You already know the benefits of recording your students, and now you can discover how your peers are doing it faster and easier with professional results. The new CD-2u and SD-2u recorders from Roland offer the ultimate in quality, simplicity, and mobility for music teachers, giving you the power to supercharge your rehearsals, increase independent learning, improve assessment, inspire creativity, and capture performances with stunning realism.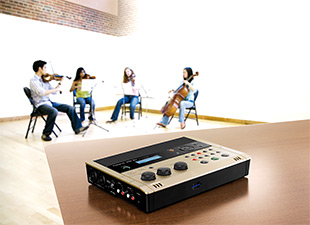 Beyond recording, the CD-2u brings new life to your CD and WAV audio libraries, letting you instantly change the tempo and key independently with amazing sound quality. You can even remove a lead vocal with the Center Cancel function, or isolate a solo instrument with Center Focus.
When it's time to record, use the built-in stereo mic for studio-quality results, or plug in your own mics to the dual XLR inputs (with onboard phantom power if needed). Moments later, you'll have a finished CD to send in for festivals and a WAV audio file to send home with students for practice.
If you don't need CD functionality, the SD-2u has all the same great features as the CD-2u, but without the built-in CD drive.
There are simply too many educational applications to cover here, so check out our special dedicated site to learn how leading educators are using the CD-2u and SD-2u. It's filled with great info, including testimonials, demo videos, and detailed tips for using the recorders in everyday education settings.