Music Tools with a Social Connection
Guitarists Worldwide Meet, Learn, and Compete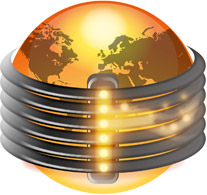 Roland Guitar Friend Jam is an amazing way to have fun and improve your guitar playing at the same time. Download free practice songs from Roland, share workout records on Twitter, and actually compete with fellow musicians from all over the world!
With the free download (available for both Windows and Mac operating systems) Guitar Friend Jam automatically starts you off with a suite of play-along songs in a wide variety of popular musical styles including rock, pop, jazz, metal, and more. You can also play along with full-band arrangements minus guitars, allowing you to be the star. You can also add MP3 files stored on your computer and jam along with your favorite tunes.
Roland Guitar Friend Jam is also a great education tool! Guitar Friend Jam helps you chart daily progress by keeping tabs on the amount of time you practice a particular song, as well as overall time spent performing. The Screen Controls allow you to START, STOP and LOOP specific sections of a song for focused practice. You can track your playing on a virtual fret board. The downloadable Guitar Friend Jam songs also display and follow the songs' chords to aid in navigating the songs' chord changes.
When you're finished playing your performance, the critique screen charts your abilities in different categories including fingering, technique, soul, dynamics and performance. You can even rank your performance among international players and upload your score via Twitter. (Internet connectivity and a Twitter account are also required for real-time ranking and record sharing via Twitter.)
To get started visit:
http://www.roland.com/FriendJam/Guitar/
An Interactive Way to Learn and Play the Piano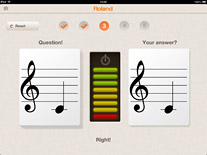 Piano Partner is a unique iPad app that provides a fresh, interactive way to learn and play the piano. With three built-in applications players will learn more about music and develop their listening and reading skills all while having fun.
The Flash Card music game challenges the player to play the note shown on the "virtual" flash card or heard aurally. Three levels of difficulty are available, so players of all skill levels can play. Content Browser lets you access the built-in song library and tones of the connected Roland piano instantly by category names displayed on the iPad. You can also enjoy remote playback control of songs from the iPad, including part mute or metronome on/off — very convenient for daily practicing or lessons.
DigiScore Lite displays the digital sheet music of the onboard songs on the iPad's screen. Notation pages are turned automatically according to the playback tempo. You can practice each hand individually along with the song by muting the left-hand or right-hand part, or with a slower tempo, all while displaying the notation. DigiScore Lite assists your daily practicing with a wide variety of built-in songs, from piano etudes to piano masterpieces.
Piano Partner supports Roland's LX-15, HP-507/HP-505/HP-503, and DP-90S/DP-90 model digital pianos. DigiScore Lite is compatible with the LX-15 and HP-507.
Piano Partner can be used by connecting an iPad cable and camera connection kit to the piano. To use Piano Partner wirelessly, internet connectivity and Roland's Wireless Connect USB Adapter are required.
To get started visit:
http://itunes.apple.com/us/app/piano-partner/id548199374?mt=8
The Ultimate Stage Piano Evolves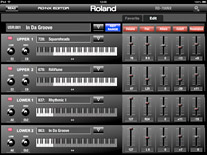 The new RD-NX Editor for iPad gives you the ability to make sound changes quickly and easily on the acclaimed RD-700NX and RD-300NX stage pianos.
The RD-700NX and RD-300NX stage pianos have been the choice for many educational programs, thanks to their authentic and expressive tones, and responsive touch. Combinations of layers, zones, effects, and various tone parameters can be stored as Live Sets for powerful and expressive sound creation, making these stage pianos not only a dream for professional players, but for educators and students as well.
Now, the new RD-NX Editor for iPad makes the RD pianos even easier. This free app lets you select your favorite Live Set easily, and edit your layers visually on the large screen of the iPad. The RD-NX Editor* can be used wirelessly with Roland's WNA1100-RL Wireless USB adapter (sold separately).
To get started visit:
http://itunes.apple.com/us/app/rd-nx-editor/id550958869?mt=8
*System program version 2.0 for the RD-700/-300 is needed for this app and is available as a free download from www.Roland.com.