Introducing SuperNATURAL V-Drums
Roland's Most Playable V-Drums to Date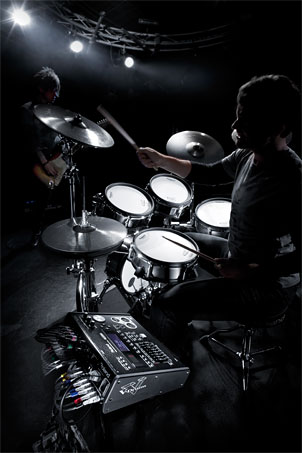 Percussionists know that realistic playability is key for learning. Developing listening abilities, rhythmic control and fundamental skills require the proper tools that respond to the player, and sound authentic. With the addition of SuperNATURAL® sounds with Behavior Modeling Technology, Roland's newest line-up of V-Drums is the most playable to date.
The flagship TD-30 SuperNATURAL Percussion Sound Module, released in January 2012, was the first V-Drums sound engine equipped with SuperNATURAL sounds with Behavior Modeling. Originally developed for Roland's synthesizers and pianos, this cutting-edge technology not only creates incredibly expressive and authentic sounds but also "models" the distinctive behaviors of how sounds react to different playing techniques. But SuperNATURAL isn't just about the sounds. In addition to the new sound engine with Behavior Modeling, the TD-30 has new pads with advanced sensing technology. This new rim sensor allows for accurate and dynamic rim shots. And the new Room Ambience function creates a new level of spacial depth for a most complete and natural drumming experience.
Now with the TD-15 and TD-11 V-Drums, SuperNATURAL sounds are available in mid- and entry-level V-Drums Sets. In addition to the new expressive sounds and enhanced Ambience feature, these kits also contain many features educators love. Roland's Rhythm Coach practice tools and Quick Record functions help developing drummers build skills and capture performances for study and review. Two different USB ports allow users to play audio files for real-world ensemble experience. The Mesh Head snare allows for the superior playing feel and response necessary as students develop accurate technique.
All of Roland's V-Drums offer a variety of instruments and customizable drum kits, allowing for study of a variety of styles of music. The new TD-15 also features 10 multi-effects for processing drum sounds, as well as dedicated buttons for tuning, muffling and effects. Both the TD-15 and the TD-11 offer multiple trigger inputs.
Roland's Education team has created V-Drums Playing Tips designed to help you make the most of your V-Drums kit. With Suggested Playing Tips on such topics and Rhythm, Sound and Ensemble Play, these playing tips are designed to give educators ideas and examples on how to incorporate the V-Drums features into your lessons.
For a complete list of Roland's V-Drums visit www.rolandus.com.
For downloadable playing tips for Roland's V-Drums, download the V-Drums Playing Guide.