Roland Apps for Music Educators
For most educators the application of concepts and skills learned is essential to their teaching. And now, thanks to technology, it's easier than ever. Apps are availabe for almost every subject and Roland has just added two new apps that music educators will love. Available through iTunes, these great new apps are availabe now.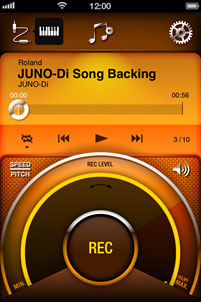 Air Recorder is an app that lets you enjoy high-quality recording with easy operation. With the Air Recorder app you can record sound through the internal mic of your iPhone/iPod touch, or wirelessly make digital recordings of the sound from your Roland electronic musical instrument* using the Roland Wireless Connect USB ** adapter (sold separately). You can also load songs from the music library of your iPhone and create new recordings. While playing your song from your iPhone, the song is sent to your instrument, where users can jam along and record your version back into Air Recorder. During song playback, you can use convenient practicing functions such as speed/key adjustments and AB repeat. You can export your recorded songs to other apps as well.
Air Recorder also makes a great "meeting recorder." When your iPhone is not connected to an instrument, it defaults to using the built-in microphone and you can save any audio recording as WAV or AAC type.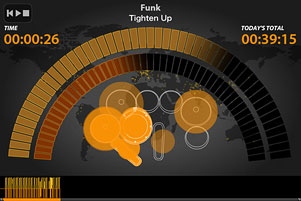 For a fun twist on your daily drum practice and performance, try V-Drums Friend Jam. Users can download free play-along songs for practice and even compete with drummers from all over the world. The songs are available in a variety of musical genres, including rock, jazz, and pop. New songs are added and updated on a regular basis. V-Drums Friend Jam provides visual feedback that shows which pads are played and the dynamic level (soft to hard) as the pads are struck. Drummers can chart their progress by recording performance date and time, ranking, and highest score. When you drum along with a song, your drumming will be shown in the screen of your iPhone/iPod touch, and your score shown as a world-wide ranking allowing you to compete and socialize with drummers around the world. You can also load favorite songs from the music library of your iPhone/iPod touch and post your performance times and ranking via Twitter.
If using this app with a V-Drums set that supports a wireless connection, your drums and your iPhone/iPod touch will be wirelessly connected allowing songs and performance data to be shared. Compatible with a variety of Roland V-Drums models, V-Drums Friend Jam is easy to set up and use. By adding the optional Roland Wireless Connect USB** adaptor (sold separately), drummers can wirelessly connect compatible V-Drums kits to an iPhone and experience all the practice features, excitement, and fun competition in a new and innovative way!
And check out these other great apps from Roland…