Roland LIVE
It's All About Making Music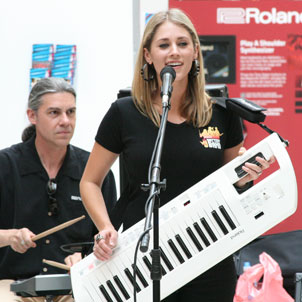 Roland was honored to be a part of the GRAMMY® Museum's Instruments of Art exhibition at the Westfield Topanga Mall this past February. The mission of the GRAMMY Museum, located in the L.A. LIVE district of downtown Los Angeles, is to explore and celebrate the enduring legacies of all forms of music. The Museum focuses on the creative process and the art and technology of the recording process and, of course, the history of the GRAMMY Awards. Through thought-provoking and dynamic public and educational programs and exhibits, guests can experience music from a never-before-seen insider perspective.
Within this 30,000 square feet of interactive and multimedia exhibits you can find Roland LIVE - an interactive music-making experience on Roland/BOSS instruments for all ages. Roland LIVE gives visitors a chance to participate in the music making process. By playing electronic musical instruments, guests have the opportunity to explore and learn "hands-on" how today's music is crafted.
Visitors of any experience level come and enjoy a wide variety of activities using Roland and BOSS musical instruments and effects. Guests may choose to find their inner rhythm by playing hand percussion on the Roland HandSonic® electronic hand controllers; or test their skills performing as a mobile keyboardist on the Lucina AX-09 Synthesizer or even get creative and make their own beats on the SP-404SX Sampler Pad. Guests can even play a real V-Drums kit, sing with custom vocal effects on the VE-20 Vocal Performer, and create their signature guitar tone using BOSS pedals and special guitar controllers.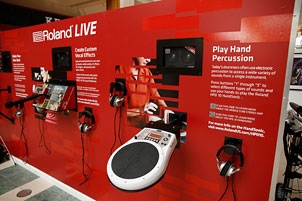 To reach more people and give them this hands-on experience, the Roland LIVE Exhibit went on the road…and found a home at the Westfield Topanga Mall located in Canoga Park, CA. In addition to the hand-on experience, mall visitors were also treated to a special performance by the Roland Battery Band. Roland employees Travis McIntosh, Steven Elowe, Larry Houston and Chris Brouelette, along with local vocal talent Sheena Loza, performed for the crowds on Roland instruments that were completely battery powered. Corey Fournier, Market Development Manager at Roland emphasizes the importance of helping people reach their inner musician. "Everyone has a dream of making music…This exhibit allows us to reach people where they are and show them how easy and fun it is to make music on today's electronic instruments." And judging by the crowds, I'd say he's right!
For more information on the GRAMMY Museum and Roland LIVE visit http://www.grammymuseum.org/interior.php?section=exhibits&page=instrumentsofart