We R in the Mix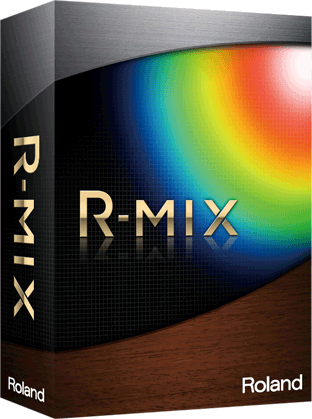 Fact: Approximately 65% of the population are visual learners.
Fact: The brain processes visual information 60,000 times faster than text.
Fact: 90% of information that comes to the brain is visual.
(www.visualteachingalliance.com)
Images shape the way we understand the world. With Roland's new R-MIX software, we not only see sound, we can play with it, interact with it, and use it to learn. R-MIX transfers stereo sound into images, allowing us to see music as clouds of color. This revolutionary visual audio manipulation software color codes stereo sounds using Roland's V-Remastering and Variphrase technology. The options for mixing, mashups, cleaning up recordings, and building performance skills can now be in the hands of all types of music lovers and learners.
When an audio file plays in the software, clouds of color dance around the screen. This graphic representations of sounds in the mix can be highlighted and isolated for mixing and mash-ups. Drag a circle or rectangle around the sound you want to work with and experiment: apply effects, change the panning position. Isolate the sound, then adjust its volume, or delete it completely. R-MIX allows you to customize each sound individually, or clean up a recording using the Noise Cancel feature.
"Minus-one" technology allows musicians to create karaoke-styled recordings that can be saved and exported as audio files for rehearsal or performance. Simply capture the vocal section, often appearing as white clouds in the center of the Harmonic Placement Window. R-MIX software makes it easy to highlight instruments--including vocals--and adjust their volume all the way down, removing them from the mix. DJs and producers can use R-MIX to create remixes and mash-ups, accessing and manipulating individual sounds all on one simple screen.
R-MIX has a wide range of learning applications. Musicians can use it to isolate and slow down instruments without changing pitch and use the software as a training tool. For specific skill building, choose an instrument solo, adjust the pitch or the tempo, and learn by ear. When you get inside your stereo with Roland's new R-MIX software, what you see is what you hear!
R-MIX is available for PC and Mac. A simplified version is also available as an iPad app.