Wheaton High Engages Learners
In his book Digital Game-Based Learning, Marc Prensky asserts "It's not 'relevance' that's lacking for this generation, it's engagement." Steeped in a digital culture, our student population feels unplugged — literally — when they are asked to learn, study, and apply what they know without the resources native to their generation.
Wheaton High School in Maryland is responding to Prensky's call for engaging students with the tools used by professional musicians. Developing since 2008, Wheaton High's music program gives students access to engaging instruments, software, and programs. Loren Westbrook, Director of Instrumental and Digital Music, worked with Roland Corporation to design an efficient lab customized for his growing program. "Part of our job is to provide access to quality materials and equipment," Westbrook notes. "We are teaching kids about the future of music in our society."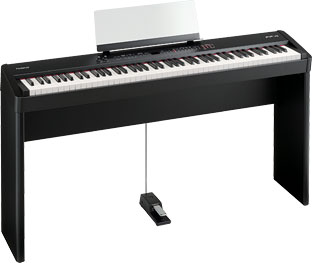 Integrating a 34-piece Roland FP-4 lab with their existing iMac computer system, they created a tool for using GarageBand and Logic to teach Digital Music, which, according to Westbrook, doubles as a general music class. "We realized that the FP-4 pianos were superior instruments to many of the far less professional piano keyboards we had previously used," Westbrook commented. He even expands student engagement with his own TD-9 V-Drums kit in the lab. Roland instruments are truly "plug and play," he says, which is necessary for education. Westbrook doesn't hesitate to use his personal Roland equipment at school, citing its durability. Roland instruments have become Westbrook's "go-to" resource in the classroom.
What began as a Digital Music class and piano lessons has expanded into music production and mixing, involving after-school clubs and bands in mastering techniques, audio recording, and acoustics. Westbrook's students produce music and music videos featured on School Tube.
The piano lab is also used for class piano lessons and performances. Lincoln Cobbins, the school's piano teacher, says the pianos are "glorious" and that the immediate response feels "exceptionally like a real piano."
No doubt, Westbrook understands engaging students with a blend of traditional techniques and modern-day technologies. His rock cello band, Primitivity, is an example of combining "refined classical approaches and the new sounds of rock." Westbrook seamlessly carries his real-world knowledge as a professional musician into the classroom.
While many schools offer digital music programs and labs, Wheaton's music courses do more: they engage our student population. With over 100 students enrolled in digital music classes, Westbrook wants to expand his lab into an adjacent room, setting up a recording booth and sound room for the growing program.
At Wheaton High School, Roland pianos help students focus, even during block schedule, and directs their creativity with "just pure fun." A combination of relevant instruments and software combined with innovative instruction keeps students plugged in to a quality, engaging education.
Mr. Prensky would approve.