Modern Music School
Developing a Life-long Love of Music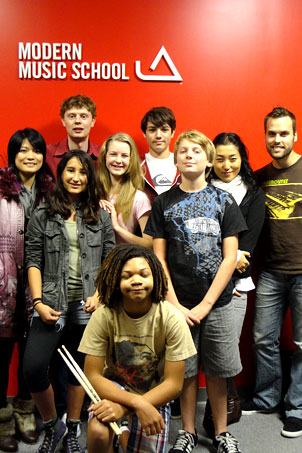 "It is important to keep kids involved in music. We must do whatever we can to create excitement and get them playing from day one to ensure they develop a life-long love of music. It is our responsibility — and it is a big one." –Ulf Geist
Ulf Geist, General Manager of the Modern Music School in Pasadena, CA, is passionate about music and music education. Drawing on his own experiences of studying drums in Europe as a child, Ulf believes in the philosophy of the Modern Music School. So much so that he has dedicated his career to sharing that philosophy with other budding musicians. Roland had the opportunity to speak with Ulf about the Modern Music School, its mission and why he feels it is so important to keep children interested in music.
If you are unfamiliar with the Modern Music School you aren't alone. This hidden gem of a school has only been operating in the United States since April 2011 when it opened its first U.S. location in Pasadena, CA.  However, its rich history began in 1987 in Germany as the Modern Drum School where it offered drum lessons only. In 1996, the school changed to its current name — Modern Music School — and in addition to its foundation of drum lessons began offering lessons in guitar, bass, vocals and keyboards. Today, Modern Music School has more than 70 locations worldwide.
With 60 schools in Germany alone, I asked Ulf what prompted the decision to open a location in the United States. "Founder and Owner Hans-Peter Becker studied drums at Musicians Institute in Hollywood, CA.  He also started the Los Angeles Music Academy (LAMA) in 1996 in Pasadena, CA. Students come from all over the world to study at LAMA. It is a full-time program for students who want to pursue a professional career in music. Mr. Becker always wanted to expand Modern Music School to the U.S. because he saw that there are not many music schools in the U.S. and none of the existing music school systems were like Modern Music School. In the long-term we want to expand our system as we do in countries like Germany."
People of all ages attend the Modern Music School and most are at the beginning and intermediate stages of their musical journey. The school offers private instruction and both small group (2-4 students), large group (5-8 students) and band workshop classes. They also host guest clinicians and artists at the school. Most recently the school has been visited by Brittani Washington, keyboardist for Beyoncé, and Jonathan Meenk, guitarist for Jennifer Lopez.
With such a dynamic lesson structure it is not surprising that Modern Music School has seen such rapid growth in such a short time. While many factors contribute to this success, Ulf credits their teachers and the philosophy of the school with keeping kids interested in playing music. "Our philosophy is that kids have to enjoy playing music. If the students have fun and you combine this with great teaching, the results are amazing! We believe that it is not only important WHAT you teach, it is also equally as important HOW you teach. Our students not only have more fun, because we teach them the songs they like listening to, but also our students learn faster, because our teachers are trained and know how to teach. If kids don't enjoy playing music and don't progress at their instrument, they will not continue with it. If kids don't continue, they most likely won't keep music as a big part of their life when they grow up. We all know how important it is to have music and art as a part of your life. Our mission is to introduce our students to great parts of music and show them a way to enjoy the journey of learning an instrument and that it can be fun."
To this point a great deal of time is devoted to selecting and training the proper instructors. To become a teacher at Modern Music School you must first become certified. During this seminar process potential teachers are coached in how students learn and the different types of learners, for instance the visual versus the auditory learner. Then they are coached on different methods of teaching, how to teach in ensemble and how to incorporate Modern Music School's custom curriculum. Once certified they can begin teaching at Modern Music School; however, ongoing training is a must. Says Ulf "We give our teachers the tools to become great at teaching and coaching and for us that is the key to our success."
The curriculum used at Modern Music School has been custom created to support this teaching philosophy. The curriculum is available to all, even if you are not a student at Modern Music School.
While making music in any fashion has its benefits, Ulf can speak first hand about how the philosophy behind the lesson can make all the difference. His personal experience as a child taking lessons in Germany was not unlike many kids around the world. "I was a 14-year-old and I had weekly drum lessons at a different music school in my hometown. I didn't like the lessons and I wanted to quit. It didn't make sense to me to have to learn all of the exercises before I could play a song. I first got in touch with Modern Music School at a music camp in Germany. I was blown away with the instructors and the whole atmosphere of learning and having fun. After that, I started taking weekly drum lessons at MMS and decided that I wanted to become a professional drummer. At age 19, I started teaching at MMS as well and moved to the U.S. when I was 21 years old. I studied at Musicians Institute in Hollywood, CA, and decided to stay in Los Angeles to play drums professionally. Three years after I graduated, Hans-Peter Becker told me about his plans of opening the first branch of MMS here in the U.S. and we decided to do it together. Now I'm the general manager of Modern Music School U.S."
Ulf is living proof of how the right teaching method for the student can make all the difference. Research shows that kids who play music develop confidence, learn social skills and score higher in math and science. These are benefits students can take with them into any career or path they choose for their life. Modern Music School's philosophy creates happy students and happy parents, and students who love to play music and enjoy making music with others. A winning combination for a successful life!