Susan Uibel
Inspiring Students through Technology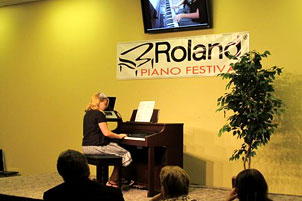 The Roland Piano Festival, in only its second year, is a much anticipated event for educators and participants nationwide. Over 50 piano teachers and their students recently had the opportunity to travel this musical journey that culminated on November 12, 2011, in Los Angeles at the Roland Piano Festival National Finals. The Festival is designed to give music educators a fun and creative outlet to motivate and inspire their students.  Unlike traditional piano competitions and guild festivals, the goal of the Roland Piano Festival is to give the participants a chance not just to showcase their technical abilities, but their creative ones as well in a relaxed, non-threatening environment.  The official instrument of the Roland Piano Festival is the RM-700 and all participating teachers are offered the opportunity to have one in their studios for the duration of the program.
One would expect that all of the participating teachers would have a strong background in using digital pianos and technology in their lessons.  But, as you will see, that is not always the case.  Let me introduce you to Mrs. Susan Uibel, a self-described "technology ignorant" piano teacher who, through the Roland Piano Festival, found a new and exciting way to inspire her students.
With a manageable studio of 21 students ranging in age from six to 60, Susan Uibel has been an established teacher in the St. Petersburg, FL, area for over 30 years.  With a strong traditional acoustic piano background, Susan was not your typical candidate for the Roland Piano Festival. "I had recently called the Music Gallery in Clearwater, FL, to get some information on the Roland digital pianos, since I have had occasion to play a digital piano at church. A few days later Charlie Hunt (the co-owner) phoned and asked if I would like to participate with a few students in the Roland Piano Festival. He had recently had a teacher drop out and he offered to place the RM-700 in my studio to prepare on and experience the digital's unique qualities first hand. Since I am unable to turn down a challenge, I agreed to it!"
I asked Susan if she had a lot of experience with technology. "After the instrument was delivered, Charlie Hunt was extremely helpful ~ he was right there anytime I had any questions or needed to know how something worked. Keep in mind that I am not technical in the least and Charlie was really taking a chance on me. I still have dial-up at home and don't even have a cell phone!! I was amazed at how user-friendly the Roland is. And since it can do everything except get up and dance across the floor, I was most impressed with it."
As a teacher who has taught solely on an acoustic instrument I wondered how Susan found all this new technology affecting her students and her teaching style. To hear her tell it her students were as surprised as she was. "I think my students were quite amazed at their traditional, acoustically-trained piano teacher embracing such a modern instrument as the Roland RM-700. The wide scope of instruments and sounds available created a new musical outlet for their creative young minds and opened doors to a musical experience they never believed possible before this opportunity presented itself.  A new multi-dimensional perspective has made the music more expressive and more real than ever before. For anyone who is afraid that their students will leave the acoustic piano behind I say not to worry. The acoustic piano is important for the serious learner. The digital piano is an encouragement to those who want to expand their horizons musically.   With the ability to combine various instruments, rhythms and effects it allows me to teach arranging, orchestration and theory in new ways. I believe there is room for both."
What got Susan introduced to the RM-700 was the Roland Piano Festival. I asked her about her and her students' experience with the program. "The students did well, and the experience of going to a less formal competition was a definite plus for them. The Roland people made them feel relaxed and encouraged, not pressured in anyway. At the local festival at the Music Gallery I had three students selected to move on to the semi-finals round. I was so proud of them having had such minimal time to prepare for the festival.   After it was all over, my students asked me if I planned to buy the Roland. I asked them if they would like it if I did and the answer was a resounding YES!"
So now that she owns the RM-700 and is utilizing it on a daily basis in her studio, I wondered what changes Susan saw in her teaching style and her student's response.
"Well, since I did buy it, the Roland holds court here for every student. I like the teaching programs it has built-in.  It helps the students become adept at rhythm because they have to think and adapt quickly to the challenges. When a student has a selection with a  special mood or mode, the student is able to explore the possibilities.  For instance, the Roland has a beautiful Flamenco guitar that can set a certain mood for a song. There are hundreds of possibilities."
How does Susan see her horizons expanding with the RM-700? "I'm looking forward to creating ensemble arrangements and getting my students to compose their own music.  Some of the features we used for the festival ~ like using the left foot pedal to change the sounds they had captured for their selection and saved on their USB ~ came easy for the students. Keep in mind that children these days are very used to applying technical prowess on computerized objects. I learned a few things from them as we went along!"
Susan continues "I would recommend the Roland digital piano to all serious musicians and teachers of potential musicians. Keep in mind that it is a new era, and teaching music is not immune from it. The digital piano is a new highway that is just beginning to show where it can take you.  Students still need the basics and a good foundation before they can begin to imagine all their potential, but music is a mathematical mode as well as a creative art.  The Roland RM-700 enhances the basics and produces the fine music that is unique to the one who is playing it."
And as for Susan…"The digital piano has opened other doors for me as well. I am now off of the computer dial-up system and have high speed Internet! I no longer have to wait 10, 20, 30 minutes to get my e-mail! I guess the next step for me is a cell phone!"